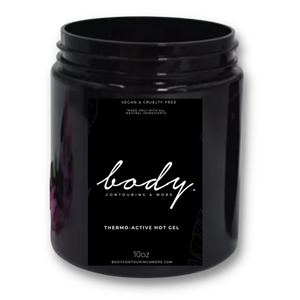 10oz Vegan Body Thermo Hot Gel
Our Vegan Hot Gel Thermoactive has the perfect blend of ingredients to increase body temperature and blood circulation; improving your ability to burn calories and fat in the area in which it's applied. Firms, tones, and detox with detoxing treated area. Use during workouts or under a sweat belt or waist trainer.
Thermo-Hot Gel Ingredients: Distilled Water, Ethanol, Menthol, Glycerine, Polysorbate 20, Mentha Piperita Peppermint Oil, Mentha Spearmint Oil, Rosmarinus Officinalis Oil, Eucalyptus Oil, Carbomer, Sodium Polyacrylate, Dimethicone, Trideceth-6, PEG-PPG 18-18 Dimethicone, Phenoxyethanol, Carpryly Glycol, Ethylhexylglycerin, Hexylene Glycol.
Please note: Our Body Products usually take about 7 to 14 days to be ready for shipping.